Journal of Civil Engineering merupakan jurnal bidang teknik sipil yang mengacu pada sistem standar internasional dalam pengelolaannya dengan tujuan utama memajukan bidang teknik sipil melalui publikasi ilmiah demi terwujudnya kemudahan mendapatkan ilmu dan informasi serta mendukung kemajuan teknologi.
Journal of Civil Engineering merupakan sebuah Jurnal Ilmiah yang disempurnakan dengan perbaikan dan perubahan dari jurnal pendahulunya yaitu Jurnal TORSI. Jurnal TORSI telah terbit Sejak tahun 1981 tepatnya pada bulan Maret. ITS Journal of Civil Engineering menerbitkan lima buah naskah penulis terpilih dalam setiap kali penerbitannya. Setiap Naskah telah melalui proses Standarisasi oleh Redaksi untuk kemudian dilakukan peninjauan oleh Anggota Tim Reviewer Ahli. Bilamana hasil peninjauan mengharuskan Penulis untuk melakukan revisi, maka harus direvisi terlebih dahulu. Proses panjang tersebut diharapkan mampu menyaring Naskah hingga layak untuk diterbitkan.
Journal of Civil Engineering terbit dua kali dalam satu volume. Periode terbit Januari - Mei dan Periode terbit Juli-Nopember. Korespondensi akan dilakukan melalui email resmi journal-services@ce.its.ac.id atau journal.services@gmail.com. Proses naskah dilakukan melalui portal OJS.
Journal of Civil Engineering is Indexed by Google Scholar.
Announcements
No announcements have been published.
Vol 33, No 2 (2018)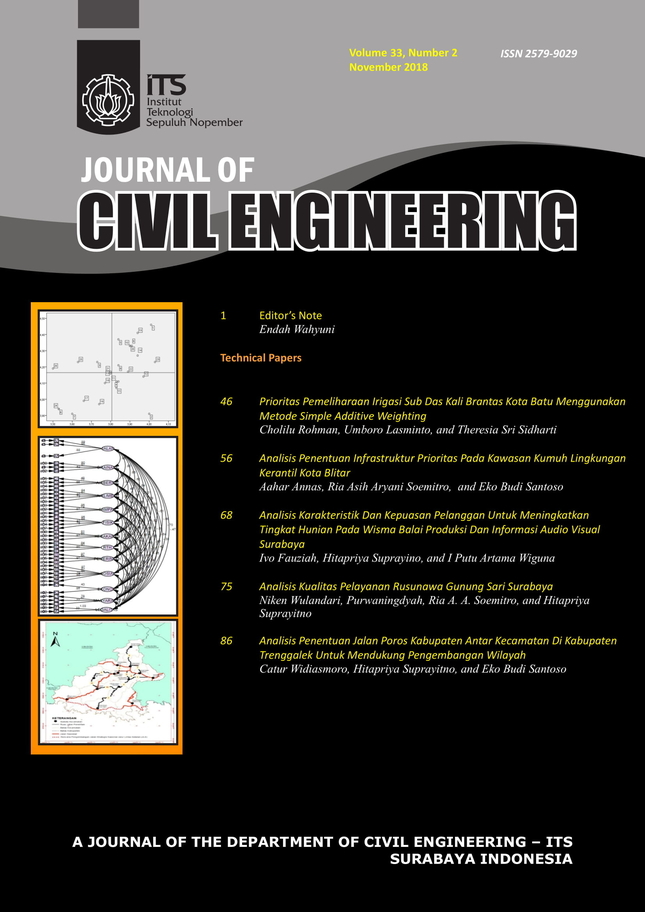 ITS Journal of Civil Engineering
by
Department of Civil Engineering
is licensed under a
Creative Commons Attribution 4.0 International License
.