Proses Distribusi dan Strategi Optimasi Pengiriman Paket dan Dokumen Dalam Negeri pada Kantor Pos Besar Surabaya Utara 60000
Abstract
Perusahaan milik pemerintah tidak bisa berkembang dengan optimal beberapa dekade ini.Salah satu infrastruktur logistik yang mengalami kemunduran dalam melakukan manajemen perusahaannya adalah PT. POS Indonesia. Maka dibutuhkan pengamatan lebih lanjut dalam proses distribusi dan pengiriman paket dan dokumen dalam negeri sehingga didapatkan permasalahan yang kemudian dapat dirumuskan strategi pengembangannya dikemudian hari. Penelusuran mengenai proses distribusi dan strategi optimalisasi pengiriman paket dan dokumen dilakukan dengan menggunakan pendekatan primer dan sekunder. Hingga didapatkan bahwa keempat tahapan distribusinya masih belum efisien, seperti proses collecting, processing,transporting, dan delivery yang lebih banyak mengandalkan tenaga manusia dalam prosesnya dibandingkan software serta peralatan modern yang dapat mengurangi kemungkinan barang hilang, rusak, dan tidak terkirimkan tepat waktu ke tangan konsumen.
References
Fu, H., Youbei, H.& Xuxu, W. (2007). Development of China C2C E-commerce from the perspective of goods delivery. The International Federation for Information Processing, 132, 179-186.
Giglio, J.M et all. (2018). "Integrating lifecycle asset management in the public sector". Business Horizons, Volume 61, Issue 4, July–August 2018, Pages 511-519.
Hayashi, Katsuhiko et all. (2018). "The Development of the Parcel Delivery Service and its Regulations in China". Procedia - Social and Behavioral Sciences 125 ( 2014 ) 186–198.
SK DirJen HubDat 727/04. Keputusan Direktorat Jendral Perhubungan Darat Nomor 727/ AJ.307/DRJD/2004 tentang Pedoman Teknis Penyelenggaraan Angkutan Barang Umum Di Jalan.
Nakada, S., Ozawa, T., Azumi, T., Miyao, Y. & Umemura, K. (1994). Report of the study on analysis of parcel delivery market. Institute for Posts and Telecommunications Policy.
Nemoto, T., Hashimoto, M., Ishihara, S., Hayashi, K., Saito, M., Takano, S, Sasaki, K., Kosaka, T, Oshima, N., Fu, Z., Nakaharai, S. & Miyatake, K. (2012). Logistics Network planning in parcel delivery service. The Japan Research Center for Transport Policy.
Nohra Haddad, Matheus et all. (2018). "Large Neighborhood-Based Metaheuristic and Branch-and-Price For The Pickup and Delivery Problem With Split Loads". European Journal of Operational Research. Volume 270, Issue 3, 1 November 2018, Pages 1014-1027.
Ouertani, Mohamed Zied, et al. (2008). "Towards An Approach To Select An Asset Information Management Strategy". International Journal Of Computer Science and Applications, 2008, vol. 5, no. 3b.
PP 15/13. Peraturan Pemerintah No 15 tahun 2013 Standar Pelayanan untuk Layanan Pos Komersial.
Rofiah, Anik, et all. (2017). "Pengaruh Kualitas Pelayanan Terhadap Kepuasan Pelanggan pada PT. POS INDONESIA (PERSERO)". Prosiding Seminar Fakultas Ekonomi. Universitas 17 Agustus 1945. Samarinda.
Salim, Abbas, H.A (1993). Manajemen Transportasi. PT. Raja Grafindo. Jakarta.
Sasaki, N. (2006). "International parcel delivery service and logistics in East Asia". Transport Policy Studies, 8(4), 49-52.
Siringoringo, Hotniar et all. (2013). "Shopping Behavior of Indonesian Consumer Towards Imported Products". Procedia - Social and Behavioral Sciences. Volume 81, 28 June 2013, Pages 411-415.
Soemitro, R.A.A. & Suprayitno, H. (2018). "Pemikiran Awal tentang Konsep Dasar Manajemen Aset Fasilitas". Jurnal Manajemen Aset Infrastruktur & Fasilitas, Vol. 2, Sup.1, Juni 2018, Hal. : 1-13.
Tikno (2017). "Measuring performance of facebook advertising based on media used: a case study on online shops in Indonesia". Procedia Computer Science. Volume 111, 2017, Pages 105-112.
Tjiptono, F. & Chandra, G. (2008). Service, Quality & Satisfaction. Penerbit Andi. Yogyakarta,
Wahyuningsih, Siti (2014). "Preferensi Konsumen Terhadap Jasa Pos di Yogyakarta". Jurnal Penelitian Pos dan Informatika, Vol. 4 No. 1 September 2014.
Zhang, Lei et all. (2018). "Simulation-based Assessment of Cargo Bicycle and Pick-up Point in Urban Parcel Delivery". Procedia Computer Science. Volume 130, 2018, Pages 18-25.
DOI:
http://dx.doi.org/10.12962/j26151847.v3i1.5161
Refbacks
There are currently no refbacks.
Jumlah Pengunjung :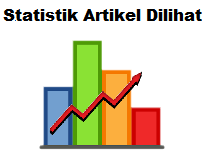 Jurnal Manajemen Aset Infrastruktur & Fasilitas
by
Departemen Teknik Sipil ITS
is licensed under a
Creative Commons Attribution-ShareAlike 4.0 International License
.