AN INTERNATIONAL JOURNAL FOR COMMUNICATIONS IN MATERIALS RESEARCH, APPLICATIONS AND INNOVATIONS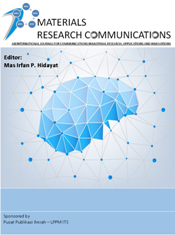 MATERIALS RESEARCH COMMUNICATIONS publishes research works, communications and findings in the field of materials and metallurgical engineering, covering material applications, material simulations as well as material innovations. The journal also publishes review papers presenting the emerging ideas and innovations in the field of materials and metallurgical engineering. Articles submitted with restricted length are peer reviewed to ensure publication quality, while also managed to be published as soon as possible so that any research findings on materials can reach readers quickly.
MATERIALS RESEARCH COMMUNICATIONS regularly publishes one volume each year. Each volume constains of three issues, each one has 

5 articles, 

to be published on January, May and September. The open access, peer reviewed, international journal is publishing and communicating research works, scientific results as well as emerging ideas and innovations in the field of materials and metallurgical engineering. The journal covers the following topics, but not limited to:
Additive manufacturing/3D printing
Biomaterials and biomedical applications
Functionally graded and (nano) composite materials and polymers
Failure analysis and corrosion
Innovative materials and structures
Innovation in materials and processes
Materials simulations and computational intelligence in material research
Metallurgy, extractive metallurgy, forming processes and design
Non-destructive evaluations and inverse techniques
Smart materials, materials for energy and other innovative material applications
MATERIALS RESEARCH COMMUNICATIONS
receives manuscripts online. The manuscripts should be submitted electronically via
MRC login system
 by an author. This system enables easier and faster submission of your article. You can track your article status, upload revisions, download reviews, and opt for email notification. Please
register
to set up an account. If you need assistance, please contact Technical Support at mrc.mrcjournal@gmail.com or the
Editor-in-Chief
.
This work is licensed under a
Creative Commons Attribution 3.0 License
.
View My Stats